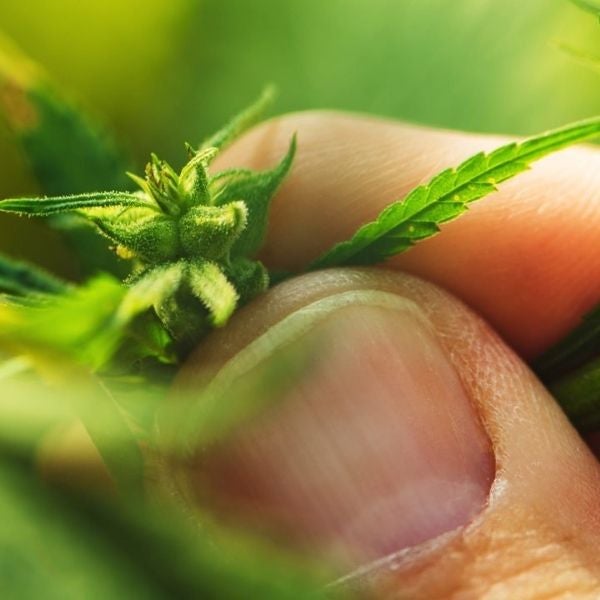 FROM ROOT TO FLOWER, NO PART OF THE HEMP PLANT IS USELESS
We can rely upon hemp to clothe, feed, fuel and house us. Basically, anything made from cotton, timber, or petroleum can be made out of hemp. Jersey Hemp currently produces organic hempseed protein powder,
CBD oils
, CBD E-Liquids, hempseed culinary oil and organic compost from raw hemp materials. As well as all of the by-products, hemp enriches the soil and absorbs carbon dioxide from the atmosphere, so it really is the plant that gives back.
In this section :
Cannabis Sativa (hemp) is a naturally dioecious plant, meaning it has different sexes on individual plants although monoicous varieties do exist. Males grow taller and earlier in the season in anticipation of the females flowering.
Much of the controversy surrounding cannabis results from the presence of delta-9 tetrahydrocannabinol (THC) predominantly found within the female flowers. All EU certified industrial hemp cultivated in Jersey has a THC content below 0.3% and will therefore have no psychoactive effect if consumed. Using practices from the coffee and plant chemical purification industries, it is possible to extract and purify individual cannabinoids creating THC-free cannabinoid preparations.
Terpenes are volatile organic compounds produced by all plants and extracted for use in the cosmetic, fragrance, and flavouring industries. Terpenes are most commonly associated with plant essential oils and are the basic components of all plant aromatic compounds, from the sweet smell of jasmine to lemon, pepper, and pine. Terpenes have a wide variety of functions within the plant ranging from insect deterrence, encouraging pollination and plant-to-plant communication. Many major plant essential oils occur naturally within hemp flowers, helping to create its unique floral aroma.
Terpenes can be extracted using traditional methods used by the fragrance industry, such as steam distillation and enfleurage. Plant-based essential oils are widely used for aromatherapy and massage use, as well as in cosmetics and perfumes, creating distinct aromas.
Recent scientific research confirmed that hemp seed is a source of valuable nutrients and is recognised as one of nature's perfectly balanced foods. The cake that remains after the oil is cold-pressed has also been recognised as one of the most valuable sources of proteins for both humans and animals.
Hemp protein powder is not only a protein powerhouse, but also inherently loaded with healthier omega fatty acids, a complete set of amino acids and more fibre than many other common protein powders. Hemp protein powder has also been shown to improve fatigue and have positive effects on the immune system.
Hemp oil has an optimal nutritional profile, being protein rich, high in the omega 3, 6, and 9 polyunsaturated fatty acids and a great source of Vitamin E and minerals. No other single plant source has all 21 essential amino acids in such an easily digestible form and in the perfect ratio to meet human nutritional needs.
The stem makes up most of the biomass of the hemp plant and consists of an inner shiv (plant xylem) surrounded by external cortical fibres. The inner shiv and cortical fibres are separated using a decorticator and the outer fibres can be further refined and used in the making of textiles, rope, car dashboard mouldings and battery superconductors. The inner shiv may be used to create a hemp-based building material known as Hempcrete.
Hempcrete is now commonly used in the building industry due to its renewable nature, fast growing time, non-allergenic properties and superior insulating and thermal efficiency in comparison to traditional fibre insulation. Hempcrete is also recognised as a carbon sink with the organic matter of the plant being locked-up within the building. Other uses of hemp shiv include: insulation, particleboard, fibreboard, equine bedding, compost, bioplastics and oil spill clean-up.
Hemp is increasingly being recognised as a candidate for producing energy from biomass. The United States Food and Drug Administration (FDA) places hemp in the top ten of potential renewable biomass sources, due to its ability to grow quickly and in many soil types, including low quality soils. Hemp fibre has a high calorific value and a high ignition point, making it ideal for producing energy from biomass or waste production. Hemp can also be used for bioremediation of contaminated soils, with the resulting fibres and biomass burned using pyrolysis to safely decompose the chemicals absorbed from the soil throughout the growing season. All parts of the plant can be used for energy from biomass generation.